Travel applications have contributed majorly to saving a lot of time for a traveler by letting them book the entire vacation in a matter of a few mins. Travel portal development firms are the main contributing factor that makes traveling much easier for individuals seeking adventure.
The flight reservation system is the way to the modern, scalable and robust architecture of reserving a flight. The most dominant issue that an airline face is the pressure of cost-cutting which slows down the entire growth of the airline industry. The success of the airline depends on two factors, one is the travelers and second is the technology used to book a flight.
>> Looking for an Airline Reservation System? : Connect with Sales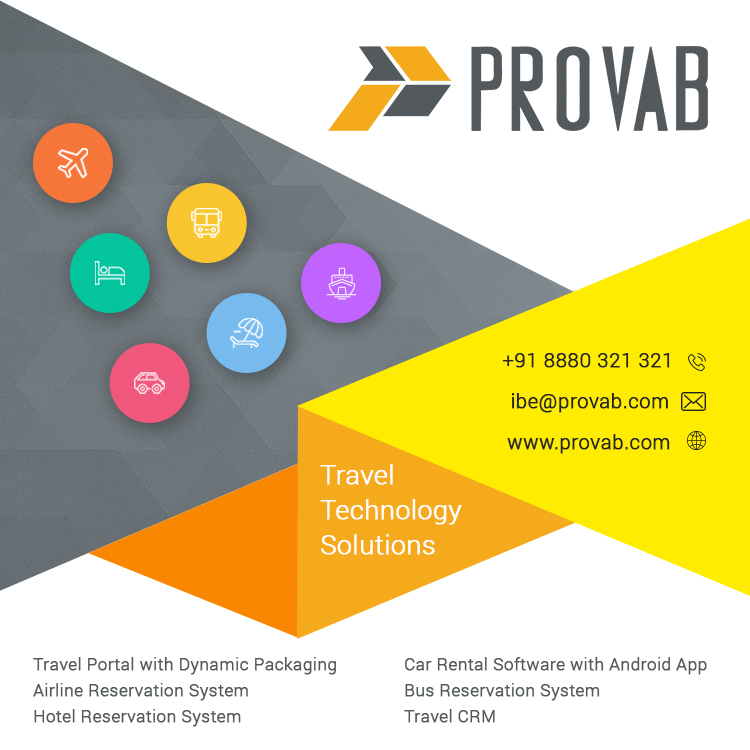 As a part of the travel company, you must hire professionals that can help you build a competitive application for flight. A credible development firm for a travel software that helps you create a well-organized software for flight booking. A proper FRS (flight reservation system) is the reason for a sustained travel business. This helps customers to reserve flights in a matter of a few minutes hence, it becomes an important aspect of travel.
Here are a few elements to consider when constructing your travel agency software. Offer online payment features with options: Let your users pay as per their comfort, not yours. All airline systems usually give payment, but some may be very restricted. As a travel company, you need to ensure the safety of customer's information and make sure that the software supports all kinds of payment gateways.
Blending with designs
There are always two sides of the coin. Similarly, you must make sure that your mobile app designs and features should match your travel agency website designs too. The theme should preferably be the same and should provide almost the same information on both platforms.
Avoiding few features
Some of the applications ask its customers to register first which means a form where one has to fill details that is a time-consuming task. In the internet world, everyone wants fast service, avoid adding such features. Your users should be able to make a quick booking regardless of a new customer or an old one.
Trying out a demo
It is important to try out a demo before choosing a flight booking system. Different companies use different technologies to provide you with a customized solution. However, some companies might design the app exactly the way you want it to be based on your taste and preference.
Avoiding cyber crimes
The more digitized the world is becoming the more we need to be careful. With the quantity of internet presence, cyber dangers have also increased. Ensure that you use the best available technologies to provide the best safety you need.
GDS based System
To provide your users with global airline information for availability and pricing, a GDS (Global Distribution System) is a must. Using the API (Application Programming Interface) to enable customers to get flight information in real-time.
A proper business model helps to build a great flight booking system which can further help in building an advanced and effective booking engine which can help in the increase of website and online travel agency application traffic. The whole concept is to make consumers whoever visits the portal or downloads the app more comfortable. Quick bookings, confirmation notifications for better security and greater mobility.
Airline reservation systems include passenger reservations, airline schedules, and ticket records. An airline's direct distribution works within their reservation system, as well as pushing out information to the GDS. The second type of direct distribution channel are consumers who use the internet or mobile applications to make their reservations.
Check-in is an important and the first procedure for an airport passenger, as passengers are required by airline regulations to check-in at certain moments before a flight departs. The airline check-ins are one of the main functions for the airline, it is also important to check and screen the luggage that goes into the aircraft for the passenger as well as the security of the airport.
>> Looking for Mobile Application Development? : Connect with Sales
Mobile check-in
By keying on a website on the browser of the mobile phone or downloading a specialized application, you can access the check-in function. Then the method is comparable to what one would expect when using a personal computer to check-in.
Some airlines give a mobile boarding pass to a mobile device that can be checked at the airport during safety checks and boarding at the end of the portable check-in cycle. Others, however, send a barcode electronic confirmation that can be submitted to the employees at check-in or checked at the kiosks to the check-in process.
Traveling is supposed to be a time when you get to let your hair down and relax. It is meant to be de-stressing and joyful. However, often the task of managing a vacation or creating its arrangements becomes daunting. To make things easier, convenient and tension-free, travel portals were developed. Travel portals are internet booking management services that enable you to create reservations on a single platform for hotels, vehicles, buses, airlines, etc. It brings clients and travel service providers together. With a travel portal, one can manage a huge number of travelers with relative ease and simplicity.
These online reservation management systems are created with the latest, cutting edge technology in the software arena. Countless companies are making such software, however, for creating a reliable and popular travel portal, you can only rely on the best. The latest travel technology software created by our company for making online reservation management systems has been designed by some of the brightest minds in our software development team. They are immensely qualified, with great expertise and experience in this arena. They have carried out research to assess the travel tools and technology clients look for or expect to see in an ideal travel portal. Based on this research we have come up with a travel technology software that is best in its class. This latest travel technology software is also very simple to use, high on privacy and security and comes with a user-friendly interface.
Our latest travel technology software comes with some of the most amazing and unique features that will allow you to manage multiple sales channels such as B2C, B2B travel portal, B2B2C, and B2B2B. It will also enable them to offer multiple services such as Flights, Hotels, Package, Cars, Insurance, Sightseeing and Transfers through their online portal. The travel technology software we provide can be integrated with GDSs and third party suppliers for hotels, sightseeing, etc. It is an all in one suite to automate your travel agency operations to scale up with agility, flexibility, and elasticity.
Our travel booking software has been tested to ensure that we deliver scalable solutions for growing your business. With a customer base of more than 60 and worldwide integrations with 80 plus suppliers, our software has proven its mettle. Our software will help you streamline your business processes, optimize revenue and enhance the customer service experience.