Do the airlines use GDS for inventory or the CRS?
Airlines use the Central Reservation System as their inventory management scheme as part of their PSS. It's just as confusing because all significant GDSs also 'own' a PSS and therefore in many instances the distinction is not achieved properly.
Will an Airline be able to list their offerings on different GDS?
It is a negotiation between the airline and the GDS whether or not an airline lists all or some of their inventory in the GDS. The airline may want to be in the GDS as an enormous marketing channel is offered by GDSs. The airline must also pay commissions and overrides for distribution through the GDS, however. The GDSs want to be a one-stop shop and thus prefer all airlines with all fares to have the complete spectrum. Some airlines only want to make their greater priced fare available in the GDS, which is not a GDS preference.
>> Looking for a GDS Integration? : Connect with Sales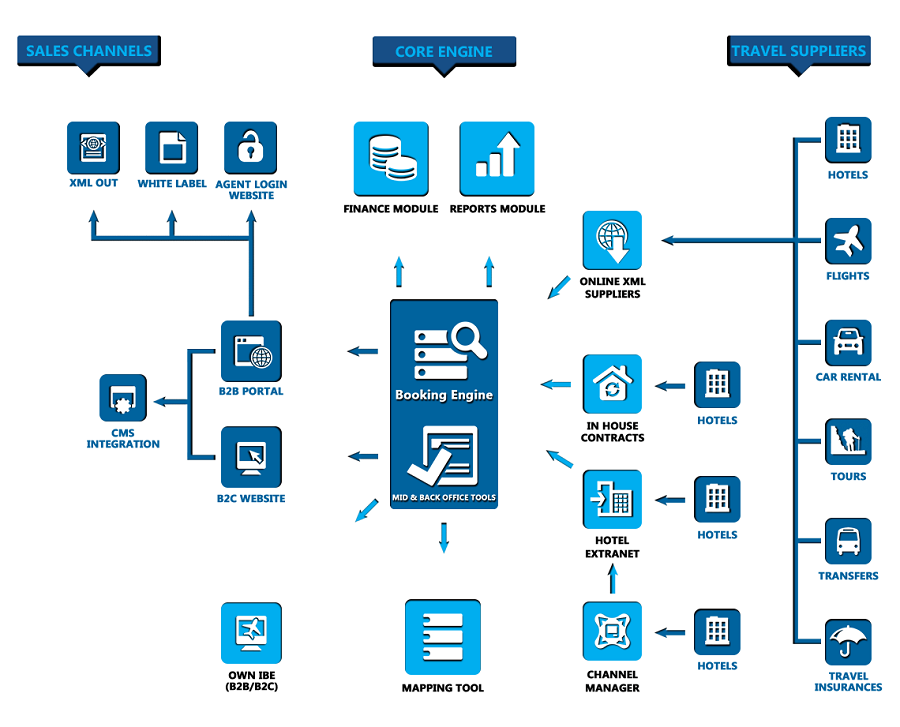 What is the complexity for a retail travel agent to use different GDS?
For agents as well as organizations and TMCs, the complexity of using separate GDS is that each GDS has its own interface (API, Agent Desktop, cryptic screen). Therefore, you need to learn different ' languages ' (if using the cryptic screen), work with different graphical user interfaces (such as Sabre Red or Amadeus Selling Platform) or have separate integrations into separate APIs (such as Sabre web services, Amadeus web services, Travelport Universal API, Galileo web services, Worldspan DIR, etc.). This has been a lucrative niche market for us since 2000: providing one API (or even an Agent Desktop) for all significant GDSs, where two of the top three TMCs are using our services, among others. There is also, of course, a business element: contracts are needed with each GDS (even if you are using an aggregator like us)
What will be the NDC interface with GDS?
Messaging between a GDS (or any other system) and a CRS (a portion of a PSS) was usually done in EDIFACT – however there are also structured interfaces available. NDC is essentially a fresh pipe parallel to EDIFACT as a fresh standard. So if the GDSs unplug their EDIFACT pipe and plug it into their NDC pipe, the best concept would be. This will never occur, however, because it would mean that all airlines (around 500) would have to sunset their EDIFACT pipe and transfer to the NDC pipe. Then there's still an open ticketing issue. Bookings are ticked and paid in the GDS via ATPCO. The airline reservation system makes reservations via NDC using the Airline API.
Bookings via ATPCO are ticketed and paid for in the GDS. Why is this so?
Airlines submitted their tariffs and fare rules in the traditional GDS distribution globe with ATPCO in accordance with a restricted number of single-digit classes. The GDSs picked up tariffs and fare regulations from ATPCO for a particular class of a particular airline and checked the stock for that class – either in their own stock cache or directly with the CRS airline. ATPCO, in fact, is not part of the value chain of booking or ticketing other than providing the GDSs with information. The GDSs perform booking and ticketing. Finally, billing and settlement generally takes place via a clearing house – predominantly ARC (Airline Reporting Corp.) and IATA BSP (Billing Settlement Plan for the International Air Transport Association)
>> Looking for a Central Reservation System? : Connect with Sales
What are the examples of GDS and CRS?
A GDS is the Global Distribution System and the major ones are Amadeus, Sabre (incl. Abacus), and Travelport (incl. Apollo, Galileo and World span). The word CRS is no longer used as it became a component of a larger scheme: the Passenger Service System (PSS), which generally consists of the CRS, an airline stock system, and the DCS Departure Control System. Typical examples of a CRS are Shares from Hewlett-Packard (formerly EDS), but more importantly SabreSonic (Sabre) or Altéa for traditional carriers. 
Is it correct that multiple websites use the same GDS backend to serve the same information to the users? If so how is the pricing different on different platforms?
The same GDS or various GDS may be used by OTA (Online Travel Agencies). Every organization can create a decision. Fares may or may not differ between GDSs – this depends on the content agreements between GDSs and each provider (airline, etc.) whether the tariffs are the same or distinct. Tax variations may also occur. If we're talking about an airline provider with complete material dealing with the GDSs you want to compare, the price should be about the same. There are also markups hidden from customers. Despite not being so prevalent with air tariffs (as organizations receive orders from airlines), organizations may mark their tariffs or tariffs in any manner they appear fit. Agencies may also receive negotiated tariffs (if you take a lot of company to a certain supplier, that supplier may provide you with better tariffs), which they mark to the nearest published tariff.